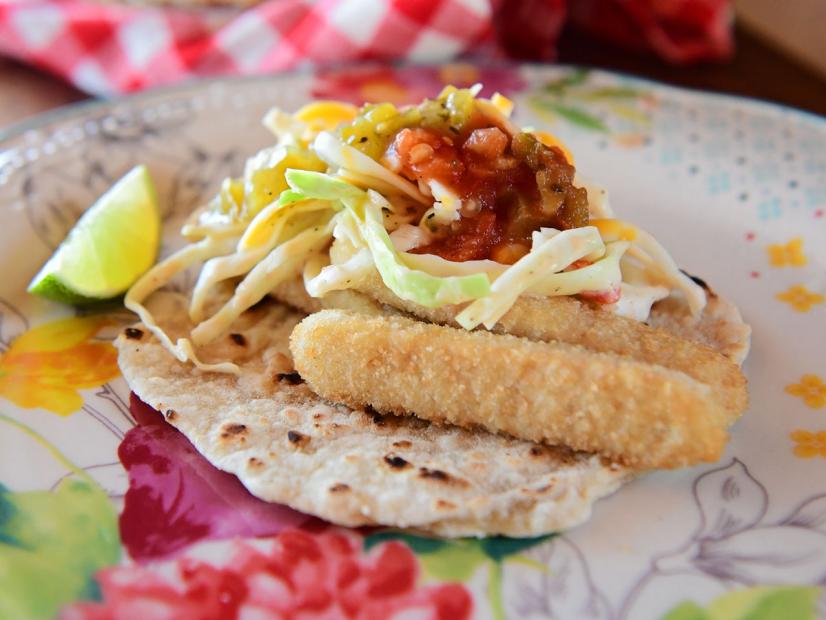 An easy Fish Taco recipe served with a tasty southwest coleslaw. A family pleaser.
48 frozen fish sticks
Tortillas
Cabbage Pantry Slaw, recipe follows
1 cup jarred salsa
1 cup jarred salsa verde
1 1/2 cups grated Colby Jack cheese
Jarred sliced jalapenos, for topping
3 limes, cut into wedges
Cabbage Pantry Slaw:
1/2 head green cabbage, finely shredded
1 cup store-bought salad dressing, such as Thousand Island or Southwest flavor
2 tablespoons jarred jalapenos, chopped, plus 3 tablespoons liquid from the jar
One 4-ounce can diced pimentos, drained
Kosher salt and freshly ground black pepper
Cook the fish sticks according to the package directions.
Pile 3 fish sticks onto each Homemade Tortilla. Add some of the Cabbage Pantry Slaw, both salsas and cheese, then top with a few slices of jalapeno and a squeeze of a lime wedge. Serve immediately.
Cabbage Pantry Slaw:
Put the shredded cabbage in a large bowl. Add the dressing, jalapenos and their liquid, pimentos and salt and pepper to taste. Stir until thoroughly combined.
Follow Poinsettia Drive On